Located in Swansea, Mumbles Dentists is dedicated to those pursuing the ideal smile. We recognize the transformative power of a straight, confident grin. As a premier provider of teeth straightening services in Swansea, our experienced team works diligently to transform your dream smile into reality. With personalised care and the latest treatment techniques, we aim to offer an unparalleled smile journey for all our clients.
Personalised Treatment Options
Our extensive suite of teeth straightening options ensures that each patient finds the solution that fits their needs:
Traditional Braces: A proven and dependable technique for teeth realignment, these braces employ brackets attached to the teeth, interconnected by archwires. Periodic adjustments apply a gentle force, moving your teeth systematically to the desired position.
Invisalign (Clear Aligners): Crafted using cutting-edge computer technology, these clear aligners stand out for their invisibility. The added advantage of being removable allows for hassle-free oral hygiene and eating routines. They offer a covert and comfy alternative for teeth realignment.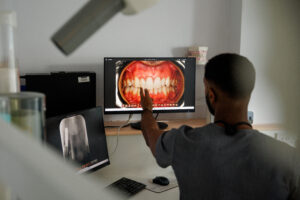 Holistic Care
Beyond just teeth straightening, our comprehensive orthodontic care encompasses a wide spectrum of oral concerns. Whether it's malocclusion, overcrowding, gaps, or other dental challenges, we are equipped to tackle them all, ensuring not just a radiant smile but also a healthier oral future.
Why Choose Mumbles Dentists?
Our steadfast dedication to offering diverse teeth straightening solutions ensures our Swansea community gets access to treatments best suited for individual needs. We harness the latest in dental advancements and techniques, paired with the expertise of our professionals, to deliver unparalleled results.
Begin Your Smile Journey Today
Embark on your journey to a radiant, straight smile with us. Contact Mumbles Dentists today for a consultation, and take the initial stride towards the captivating smile you truly deserve.
Back to Cosmetic Dentistry